CMS offers exciting opportunities for people interested in working with a progressive, advancing company.
We actively seek people who enjoy the challenges of working in remote locations alongside different cultures and we encourage the integration of local staff into our operations.
CMS offers extensive training and development programs to ensure our staff enjoy a progressive career path.
We strive to achieve the highest standards in performance, safety and reliability and firmly believe in providing our on-the-ground teams with the group's full support to help them achieve their goals.
Opportunities regularly exist for experienced drilling and mining personnel for:
Drilling techniques such as reverse circulating (RC), air-core and diamond drillers as well as multi-rig project managers, supervisors and maintenance crews
Mining heavy equipment operators including dump trucks and diggers, and maintenance crews
Our fleet is one of the youngest in the industry, ensuring you will be working with the latest technologies and equipment.
Please submit your CV to:
CMS (Limited) Tanzania is an Equal Opportunity Employer.
We encourage everyone to apply for the broad range of opportunities we offer. 
'Before starting in my role as Trainee Mechanic, I had never seen this type of equipment. 
I have learnt something new every day and I have now changed mechanical and electrical components, learnt how to weld and operated large machinery used for moving gear around the yard. 
I receive support from the maintenance crew any time I need it and I want to continue building my skills and knowledge so one day I'll be a Manager at Capital'
Aissata - Fitter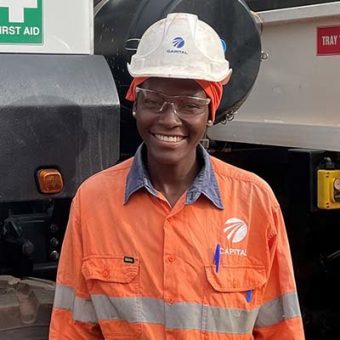 We don't have any vacancies currently, please check back later